About Us - For You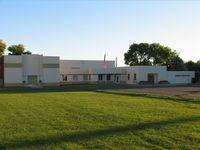 8209 Fairview Avenue
Boise, Idaho 83704
We have been at this location since 1956 and you are welcome to tour our funeral home at any time.
We have a sincere desire to ensure that every family we serve knows they made the right decision.
We offer a full range of services at very low prices and will give some information below for you to consider. The burial and cremation pages show our packages and prices. Our indoor mausoleum, a final resting place for your loved one (burial or cremation interment) is just beyond our chapel and family meeting rooms. We will be here.
Cremation can be over $2000 in the Boise area, and we offer our simple "complete" cremation service for much less. We do the cremation right here, on site, by a licensed funeral director. Because we own our own crematory, there is no waiting period and no transfer of the deceased to a third-party contract facility. This may not matter to some families, but does to those who know the difference.
A full service funeral can cost over $10,000 here in the valley. Our average full service funeral in our chapel or church, with a casket, is typically less than $5000.00. Average cemetery costs consist of the following: (Plot $800, Opening and Closing fee $800, Marker and setting fee $1200) for a total of $2800. Our mausoleum crypts can be purchased for less than this!
We will help each veteran and their family to obtain the benefits they are entitled to. The Idaho State Veterans Cemetery runs a first class operation and we highly recommend using the cemetery if that is an option.
"GREEN OPTIONS" We are working on green burial and green cremation interment options in our mausoleum. We can accommodate those wanting green options now and will go over any questions, suggestions or personal requests as well.
If you have specific questions or would like more information about us that would help you make a more informed decision, please email or call us at 208-322-2998.